Goley'in ilk Şanslı Paketi, Bu paket içerisinde tam olarak 25 adet eşya bulunmaktadır. Bu eşyalar belirli bir oran ile çıkabilmektedir. Fiyatı ise 1.000 Joyparadır.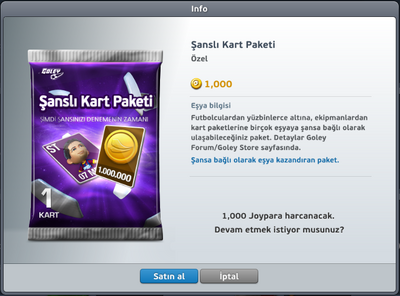 İçerisinden çıkan eşyalar ise şu şekildedir. Ender seviye Ronaldo 2013
Ender seviye Messi 2013
Uzman seviye futbolcu paketi
1.000.000 Altın
20'li Özel İyileştirme Paketi
500.000 Altın
250.000 Altın
10'lu Şanslı Para Paketi
Ender Seviye Futbolcu Paketi
%30 Hızlı TP ve Altın Paketi
10'lu Özel Türkiye Paketi
10'lu Özel Türkiye Paketi
Özel Amblem Kart Paketi
Güney Ligi Paketi
Kuzey Ligi Paketi
50.000 Altın
3'lü Ekipman Paketi
10'lu Tam Paket
Özel Forvet Paketi 1'li
3'lü Türkiye Paketi
5'ki Tam Paket
3'lü Tam Paket
1'li Türkiye Ligi Paketi
3'lü İyileştirme Paketi
1'li Tam Paket
Ad blocker interference detected!
Wikia is a free-to-use site that makes money from advertising. We have a modified experience for viewers using ad blockers

Wikia is not accessible if you've made further modifications. Remove the custom ad blocker rule(s) and the page will load as expected.