2v2 Modun da kendinize bir arkadaş seçerek, karşınıza 2 kişi rakip alarak karşılaşacağız bir moddur.
Bu mod esnasında arkadaşınız ve rakipleriniz ile birlikte aynı anda 4 kişi Goley'i oynayabilirsiniz.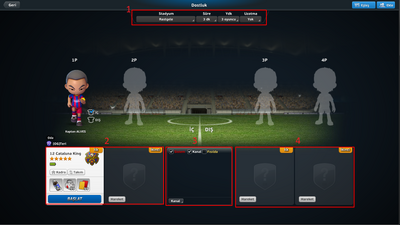 1) Goley dostluk 2'e 2 maç modunda stadyumu, süreyi (3 - 6 - 9 dakika), yedek oyuncu sayısını (3 ve 6), maç uzatması istenildiği gibi seçilebilir.
2) Takım değiştirilebilir, kadro kontrolü sağlanabilir ve iyileştirme eşyaları kullanılabilir.
3) Sohbet ekranı ile rakiplerle konuşulabilir.
4) Yer değiştirilebilir ve rakip oyuncuya ceza verilebilir.

Not:
1. İnternet bağlantısı düşük ya da Wireless üzerinden bağlanan oyuncular, 2v2 modunda anlık takılmalar yaşayabilir.
2. Maç sırasında mola alınamaz ancak üzerinde çalışılıyor.
3. Odada VS Eşleş butonu şu an için işlevsiz. Diğer oyuncuların odaya girmesi için, ana lobide maç yapa basmaları yeterli.
Ad blocker interference detected!
Wikia is a free-to-use site that makes money from advertising. We have a modified experience for viewers using ad blockers

Wikia is not accessible if you've made further modifications. Remove the custom ad blocker rule(s) and the page will load as expected.