25 Ağustos Pazartesi günü Fenerbahçe – Galatasaray arasında gerçekleşecek Süper Kupa maçında siz de kazanmak ister misiniz?   19 Ağustos-25 Ağustos 2014 tarihleri arasında tahmini maç günü doğru çıkan herkes, 10'lu Gelişmiş Türkiye Ligi kazanacak.
Goley'e giriş yapın, "Etkinlik" simgesine tıklayın ve  maç tahmininizi gerçekleştirin.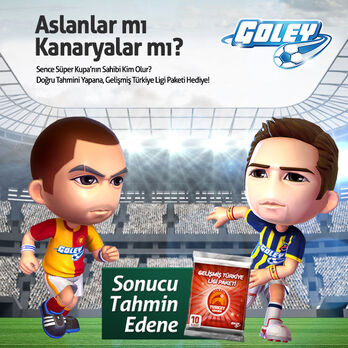 Maç Tahmini Etkinliğinin Kuralları:
Tahminler maç öncesinde yapılmalıdır.
Tahminlerinizi maç başlayana kadar değiştirebilirsiniz.
Ödüller sadece doğru tahmin yapan oyunculara verilir.
Ödüller 3 iş günü içerisinde alınmalıdır.
Ad blocker interference detected!
Wikia is a free-to-use site that makes money from advertising. We have a modified experience for viewers using ad blockers

Wikia is not accessible if you've made further modifications. Remove the custom ad blocker rule(s) and the page will load as expected.