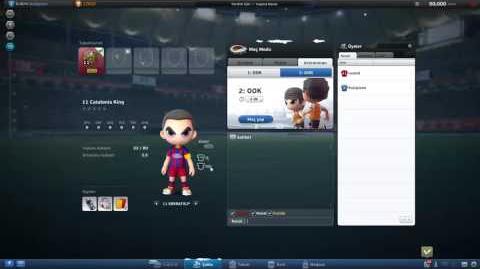 Goley'de bulunan görev sistemi sürekli ve günlük olarak yenilenir. Görevler "Günlük" ve "Başlangıç" olarak 2 ayrı başlıkta yer almaktadır.
1 - Günlük Görevler ; Hergün yenilenen ve tekrarlı yapılabilen görevlerdir.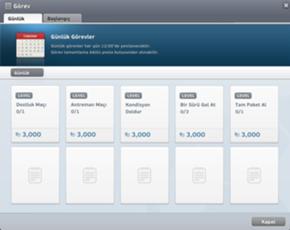 a- Dostluk Maçı ; 1:1 dostluk maçı yapılması gerekmektedir.
b- Antreman Maçı ; 1:OOK antreman maçı yapılması gerekmektedir.
c- Kondisyon Doldur ; 1 Defa enerji içeceği kullanılması gerekmektedir.
d- 3 Maç 3 Gol ; 3 maçta 1 defadan fazla gol atmanız gerekmektedir.
e- Tam Paket al ; Nakit mağazasından Tam Futbolcu paketi alınması gerekmektedir.
2- Başlangıç Görevleri ; Goley içerisinde 1 defa yapabileceğiniz 50 adet görev bulunmaktadır. Bu görevler Günlük Görevlerden farklı olarak hergün yenilenmez. Her görev yalnızca 1 defa yapılabilmektedir.
a- Temel 1 Görevleri ;
b- Temel 2 Görevleri ;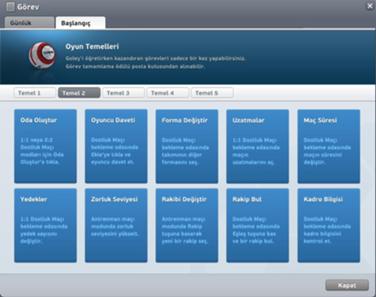 c- Temel 3 Görevleri ;
d- Temel 4 Görevleri ;
E- Temel 5 Görevleri ;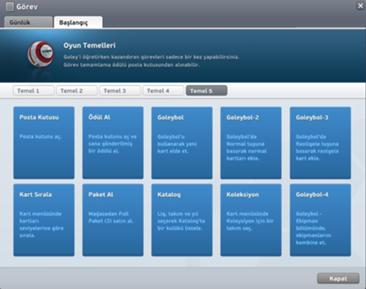 Ad blocker interference detected!
Wikia is a free-to-use site that makes money from advertising. We have a modified experience for viewers using ad blockers

Wikia is not accessible if you've made further modifications. Remove the custom ad blocker rule(s) and the page will load as expected.