Gelişmiş Uzman Paketi

Gelişmiş Uzman Paketi, direkt olarak 3 adet Uzman seviye futbolcularına ulaşım sağlamıştır. Paket içeriğinde kesin olarak 3 adet Uzman Seviye futbolcu kartı çıkmaktadır. Paket içeriği aşağıda olduğu gibidir. Pakete sahip olan oyuncuların aşağıda bulunan eşyalara sahip olacaktır.
Paket içeriği;
1- 3 Adet Rastgele Uzman Kart Paketi
2- 4 Adet Kuzey Avrupa Ligi Paketi
3- 4 Adet 10'lu İyileştirme paketi
4- 4 Adet 10'lu Ekipman Paketi
Fiyatı: 229.000 Joyparadır.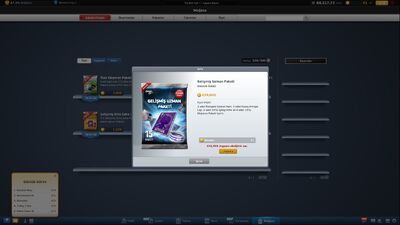 Ad blocker interference detected!
Wikia is a free-to-use site that makes money from advertising. We have a modified experience for viewers using ad blockers

Wikia is not accessible if you've made further modifications. Remove the custom ad blocker rule(s) and the page will load as expected.