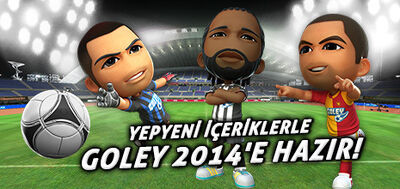 Türkiye'nin client ve web tabanlı en büyük oyun şirketi Joygame'in MMO futbol oyunu Goley, 2014 yılına yeni yama içerikleriyle gelmeye hazırlanıyor.
Goley'de artık Şampiyonlar Ligi'nde kupa sahibi olmak için mücadele vereceğiz. Yeni yama ile birlikte gelen başka bir yenilik ise, en çok istediğiniz içeriklerden biri olan gol tekrarının olması. Böylece attığımız golleri ve gol sevinçlerini dilediğimiz kadar izleyebileceğiz. Oyuna dahil olan son yenilik ise, Liderlik Modu. Bu modda rakiplerimizle otomatik eşleşme yaparak sıralama maçlarına katılabilecek ve özel ödüllerin sahibi olabileceğiz.
Ad blocker interference detected!
Wikia is a free-to-use site that makes money from advertising. We have a modified experience for viewers using ad blockers

Wikia is not accessible if you've made further modifications. Remove the custom ad blocker rule(s) and the page will load as expected.