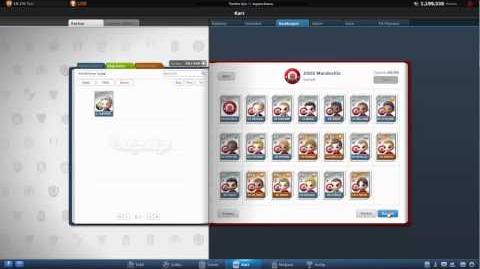 Goley'in Koleksiyon kombinasyonu ile kullanılmayan kartları kullanabilirsiniz. Koleksiyon kombinasyonunu tamamladıktan sonra aynı yıl ve takımın Ender Kadro veya Oyuncu Kartı'nı elde edersiniz.

Sahip olunan kartları, sürükle-bırak ile koleksiyon penceresinde kaydedebilirsiniz. Kartları kaydettikten sonra "Sakla"ya tıklamayı unutmayın. Sonradan iptal edemezsiniz. Yanlış kartı kaydederseniz "Geri Al"a tıklayarak kaydı iptal edebilirsiniz. Kartı takas ettiğinizde veya kaybettiğinizde tüm kayıtlı kartlar kaybolur. Slotlardaki tüm kartları kaydettikten sonra "Takas"a tıklayın ve posta kutunuza "Rastgele Nadir Kart" gönderilsin.

Koleksiyon videosunu buradan izleyebilirsiniz.
Ad blocker interference detected!
Wikia is a free-to-use site that makes money from advertising. We have a modified experience for viewers using ad blockers

Wikia is not accessible if you've made further modifications. Remove the custom ad blocker rule(s) and the page will load as expected.