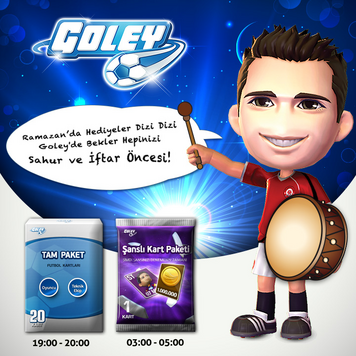 İftar etkinliği: 
Ramazan ayı boyunca saat 19:00 – 20:00 saatleri arasında Goley'e giriş yapıldığında çıkan "Etkinlik" sekmesindeki "KATIL" butonuna bastığınızda, her gün 
20'li Tam Paket
 sahip olabileceksiniz. Ayrıca  her gün aldığınız ödül dışında 5. 10. 15. ve 20.günlerde daha değerli ödüller kazanacaksınız. Takvimden ödül aldığınız günleri de takip edebilirsiniz.
Ödüller
5. Gün Genç Yetenek Paketi
10. Gün Ender Oyuncu Paketi
15. Gün 10'lu Şanslı Ronaldo Paketi
20. Gün 1.000.000 Altın
Sahur etkinliği: Ramazan boyunca saat 03:00 – 05:00 arasında Goley'e giriş yapan oyuncular Şanslı Kart Paketi'nin sahibi olabilecek. Kazandığınız hediyeler anında posta kutunuza gelecektir.
Ad blocker interference detected!
Wikia is a free-to-use site that makes money from advertising. We have a modified experience for viewers using ad blockers

Wikia is not accessible if you've made further modifications. Remove the custom ad blocker rule(s) and the page will load as expected.