Teknik direktör takımların bel kemiklerindendir. Galibiyeti göğüslemek, takımını yenilmez yapmak onların elinde belki de.
MMO futbol oyunu Goley 'de de aynı şartlar geçerli. Tabi burada sizin performansınız da çok önemli. Sonuçta o golleri ağlarla buluşturacak ve golleri ağlardan kurtaracak sizlersiniz. :)
Goley' de teknik direktör kartları da oyuncu kartları gibi 5 seviyeye ayrılır.
Bunlar;
Normal - Özel - Ender - Uzman - Süper
Teknik direktörün size önerdiği taktikleri takımınıza uygularsanız %1 -%5 arasında bonus puanı kazanırsınız. Bu da sizin için avantaj olacaktır.

Kartların üzerinde teknik direktörlerin;
- İsmi
- Takımı
- Taktik dizilişleri
- Yetenekleri
yer alır.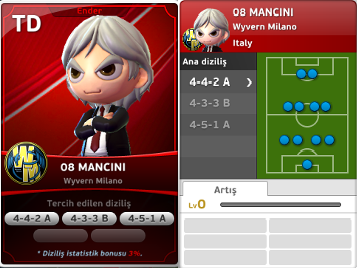 Ad blocker interference detected!
Wikia is a free-to-use site that makes money from advertising. We have a modified experience for viewers using ad blockers

Wikia is not accessible if you've made further modifications. Remove the custom ad blocker rule(s) and the page will load as expected.